The Magic Question; How to Franchise My Business?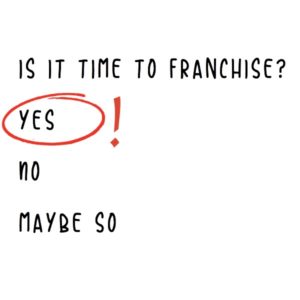 Are you the person who keeps googling "how to franchise my business"? Do you keep hitting articles that are too long, or too short, or just ask you to call? Well lets address!
This is not an easy process, but it is simple. But there is so much information out there on how to franchise a business, where to start?
First, you should really consider seeking the advice of an expert franchise consultant who can help you through each step, and figure out what information is there to take your money, and what' there to help you. can help you sort through all the information and teach you how to franchise your business. remember, there is a step by step process to franchising for you to follow!
Determine if your business is one that can be franchised.
Make sure that you are fit and ready to be a franchisor.
Build the right team.
Start the documentation process.
Determine the nuances of your franchise offering.
Determine your growth plan and strategy.
Build a marketing plan and budget.
Design your mutual evaluation process.
Design your training, onboarding, and support processes.
Execute.
Of course there is so much that goes into each one of those steps. Along the way you will need to
Strengthen or redesign your corporate brand and image
Implement technology for both prospect and franchise management
Do the legal work for trademarks but domestically and possibly internationally
Decide on fee structures that both you and your franchisees can handle
Creating a franchise website
Writing operations manuals
and so much more.
That's why step three is so important! Check out our resources page to see some possible team members and good luck!